Resin Driveways
Stunning Resin Driveways supplied from our Essex HQ, across the UK.
Resin Bound Driveway Installation Benefits
There are a number of factors which contribute towards permeable resin bound surfacing being a more suitable option for your driveway needs, benefits of resin driveways include:
Cost Effective
Resin bound driveways are a cost-effective way of improving your driveway. It can be applied over existing tarmac at a much cheaper price then what it would be to rip it up first. Added benefits are that it looks amazing and the variety of colours can match your property and its surroundings to create an aesthetically pleasing environment.
Durability & Longevity
High quality resin bound driveways are extremely durable, this is due to their composition of 4 layers. The top is a sealed aggregate which is resistant to extreme weathers and high pressure which can be caused by dropped items or heavy vehicles driving over it. Their composition also lets them keep their colour over the years. Read more about resin driveway care and maintenance.
Porous Service
A resin surface is porous meaning it does not let puddles build up on your driveway (permeable), meaning no more wet feet. You are also not impeding the growth of trees with this so you can also help with your contribution towards the environment.
Find out more about resin surfacing costs  and what you should expect to pay with Ace Resin by competing the form on the right to get a call back
The Importance of SUD's
Sustainable Urban Drainage System
Demands that only porous materials are used for both new build projects and when asked to re-lay existing areas. Our Resin Bound materials are 100% compliant with SUD's regulations, therefore making it stand out when searching for a new surface to be laid.
Resin Driveway Maintenance
A resin bound driveway is basically maintenance free. Once it is laid any spillages or stains you get on it can be easily removed with the use of a jet washer. However over the years your driveway may begin to look worn, this is not a problem as we offer a cleaning service that will be sure to give it a new lease of life. Be sure to contact us regarding Resin Bound Restoration.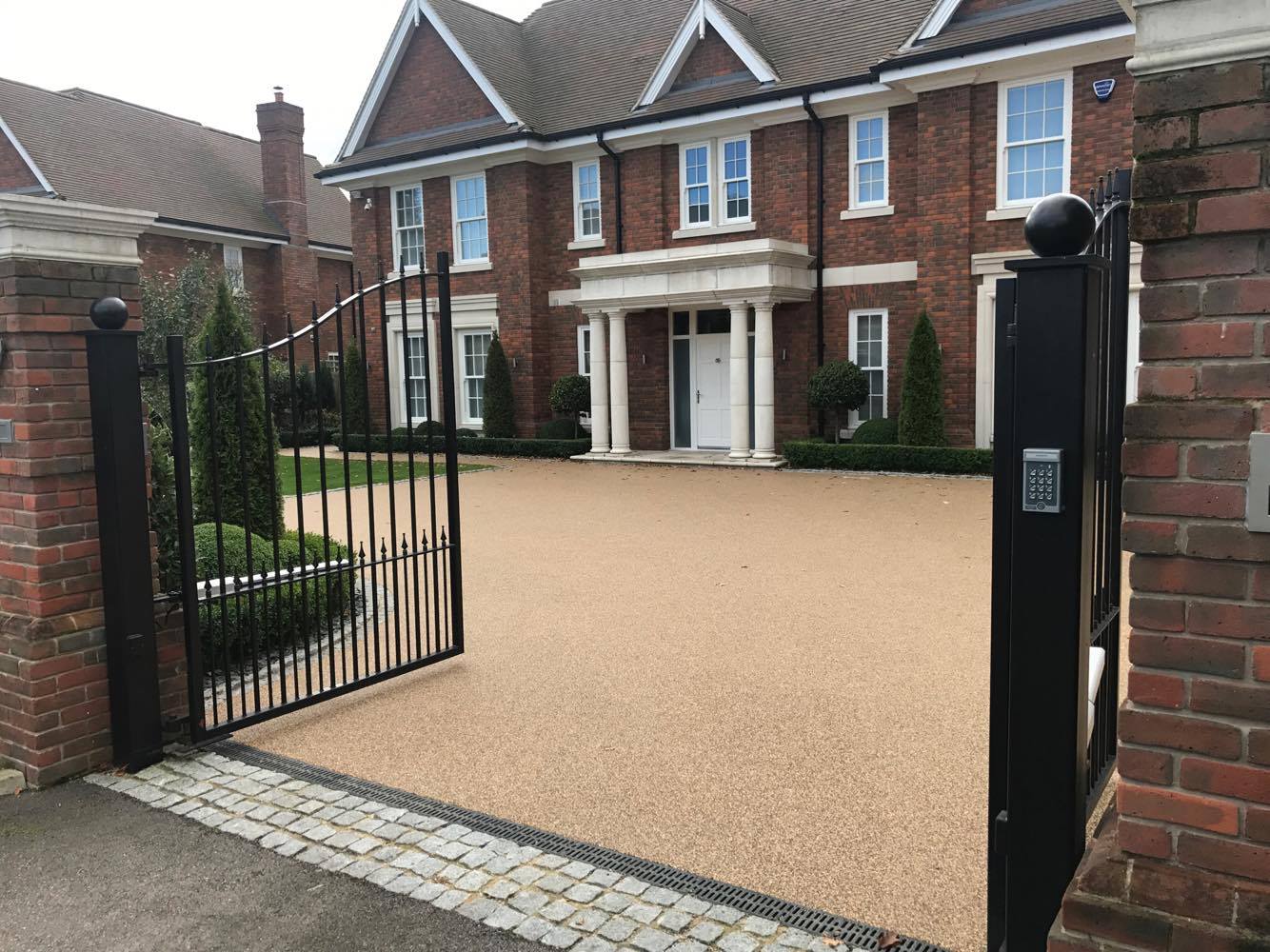 Request a call Back
Uses
Driveways
Car Parks
Foot Paths
Patio Areas
Play Grounds
Swimming Pool Surrounds
Pond Surrounds
Advantages
SUD's Compliant
UV Stable
Anti Slip
Low Maintenance
Wheelchair Friendly
Durable
Highly Decorative
Resin Driveways
Ace Resin specialise in transforming your driveway with our low-maintenance resin bound surfacing. 
Resin Pathways
Take advantage of our cost-effective resin surfaces for all types of residential and commercial pathways.
Commercial Surfacing
We provide commercial surfacing solutions for schools, car parks, housing developments and more.
Get a Quote
For more information on how we can help you with your resin driveway in Essex or anywhere in the UK, please don't hesitate to get in touch by completing the form, call us now or email us at info@aceresin.co.uk.
Frequently Asked Questions
What's the difference between a resin bound driveway and a resin bonded driveway?
Resin Bound
Resin bound is an eco-friendly, highly porous paving solution for ground surfacing. It is a choice of decorative aggregates mixed with specialist resins then hand trowelled to give a flat smooth surface suitable for driveways, paths and patios.
Resin Bonded
Resin bond is laid in a different manner to resin bound materials. It involves applying a layer of resin to the existing surface, which aggregates are then scattered in to the top of. This gives a non-porous surface, which has a coarser finish and leaves a certain amount of loose stone on the final surface.
How long will a resin bound driveway last?
A resin bound driveway is a strong and durable surface, that is resistant to weather conditions. Comparable products like Tarmac or Asphalt can soften in the summer heat and freeze in cold of winter, they will also be damaged by UV light. Resin is much more stable than these alternatives performing well year round in some of the UK's worst weather. Our driveways come with a 10 year guarantee and can last to a good standard for 25+ years.
Can I lay a resin driveway over my existing driveway?
This depends on the type and condition of your existing driveway. However, it should be laid on an appropriate sub-base of either asphalt or concrete. 
Do I need planning permission for a resin driveway?
If you have an existing driveway then planning permission will not be required. For any newly installed driveways or extensions planning permission is required for surfaces such as traditional block paving, flags and tarmac. 
Working in Partnership With