Resin Driveways
Stunning Resin Driveways supplied from our Essex HQ, across the UK.
Resin Bound Driveway Installation Benefits
There are a number of factors that contribute towards permeable resin-bound surfacing being a more suitable option for your driveway needs. Explore our page to find out more about why our fully permeable resin bound driveways are for you:
Cost Effective
Resin-bound driveways are a cost-effective way of improving your driveway. It can be applied over the existing tarmac at a much cheaper price than what it would be to rip it up first. 
Achieve an amazing, clean and professional look. Choose from a variety of colours that can match your property and its surroundings to create an aesthetically pleasing environment. 
Also, due to the permeable nature of the material, you do not need to request planning permission.  Lastly, a stylish permeable resin bound driveway can actually increase the overall value of your home should you wish to sell in the future.
Durability & Longevity
High quality resin bound driveways are extremely durable, this is due to their composition of 4 layers. The top is a sealed natural aggregate (read more about our dried aggregates later) that is resistant to extreme weather and high pressure which can be caused by dropped items or heavy vehicles driving over it. Their composition also lets them keep their colour over the years. Read more about resin driveway care and maintenance.  
Wide Range of Colours
Our resin surfaces are available in a variety of colours. From dark tones like Twilight to warmer shades such as Devon Yellow at Ace Resin, we guarantee to have the colour for you. 
To view our exclusive selection of resin colours, visit our colour chart page. If requested, we can offer a mix and match service. This will make it possible for you to create a bespoke blend of coloured loose stones sealed with resin.
Porous Service
A permeable resin surface is porous meaning it does not let puddles build up on your driveway, meaning no more wet feet. You are also not impeding the growth of trees with this so you can also help with your contribution to the environment.
Why choose permeable resin bound surfacing?
Environmentally Friendly
A permeable resin-bound paving surface offers a unique natural filtering of water as it seeps through the natural sealed dried aggregate, down into the porous open surface asphalt and finally through the sub-base into the earth.
Avoid the common problem of conventional paving, whereby rainwater simply runs off into the local drainage system. The UK receives a significant amount of rainfall, therefore our drains often become overwhelmed resulting in blockages and street flooding. 
With a permeable driveway patio surface, any excess water is absorbed naturally by the soil underneath. This eco-friendly factor greatly reduces the risk of flooding.
Also, as rainfall filters through the resin-bound paving surface, the impurities are separated out, reducing the risk of water pollution.
Sustainable Material
The natural drainage power of permeable resin-bound surfaces is not the only attribute that helps the environment. We use a mixture of natural aggregates, recycled glass and reused marble. As we use a grid system to physically install the resin-bound gravel surface, this means it can be removed and used elsewhere for different purposes. 
Quick, Simple Installation
In comparison to a heavy tarmac or concrete surface, resin-bound driveways do not require specialised high-tech machinery to be installed. Once the base layers have been laid down, the resin-bound aggregates are mixed on-site and laid with a hand trowel to ensure absolute precision of the highest quality with a smooth finish.
For more information, check out our article 5 Reasons to get a Permeable Resin Driveway.
What are dried aggregates?
Dried aggregates are a hybrid mixture of rock, stone and mineral fragments that have been crushed to similar sizes. They can be decorative like our seashell design or plain black, depending on the finish you wish to achieve. At Ace Resin, we even offer glowing stones that illuminate your driveway every evening. 
All of our aggregates are washed, cleaned and dried before use. This is essential for the crushed stone to achieve a strong bond with the resin solution. Our dried aggregates are of the highest quality and are sourced from the natural environment. 
Despite this, we are still able to offer a wide range of colour choices. As our stones occur naturally, no colour pigments are required, meaning the colour of the aggregates will not fade over time.
How much do Resin Driveways cost (UK)?
We guarantee that our prices will always remain competitive. We only install resin-bound driveways of the highest quality to create a stunning, durable driveway to be proud of. 
The average cost of a resin-bound driveway is £50-£100/per m², but every project we take on is always unique to our customers. We also have to factor in labour costs within our pricing.  
A variety of factors affect the cost of a resin-bound driveway:
Size and layout

Colour/Style choice

Customised depth of aggregate

Your existing driveway surface

Edging options

Transport and labour costs
Find out more about resin surfacing costs and what you should expect to pay with Ace Resin by completing the form on the right to get a callback from one of our resin-bound paving experts.
The Importance of SUD's
Sustainable Urban Drainage System
Demands that only porous materials are used for both new build projects and when asked to re-lay existing areas. Our Resin Bound materials are 100% compliant with SUD's regulations, therefore making it stand out when searching for a new surface to be laid.
Resin-bound Driveway Maintenance
General Cleaning
A resin-bound driveway requires little maintenance. This greatly reduces the overall cost of a resin bound system. Once it is laid any spillages or stains you get on it can be easily removed with the use of a jet washer. 
Weed Removal 
Resin surfacing is weed repellent and the driveway is treated with weed repellent prior to installation of the resin-bound surface. However, due to seed dispersal from animals and winds, weed seedlings can begin to appear. If you notice this, simply pull the weed out directly by hand, making sure the entire root is removed with it.
Vehicle Fluids
If any fluids from your car leak onto your new resin-bound driveway, such as brake fluid, oil or fuel, this must be removed as soon as possible. Use warm water to gently wipe away the spillage. Failure to do so may result in staining or discolouration of your 
However over the years, your driveway may begin to look worn, this is not a problem as we offer a cleaning service that will be sure to give it a new lease of life. Be sure to contact us regarding Resin Bound Restoration.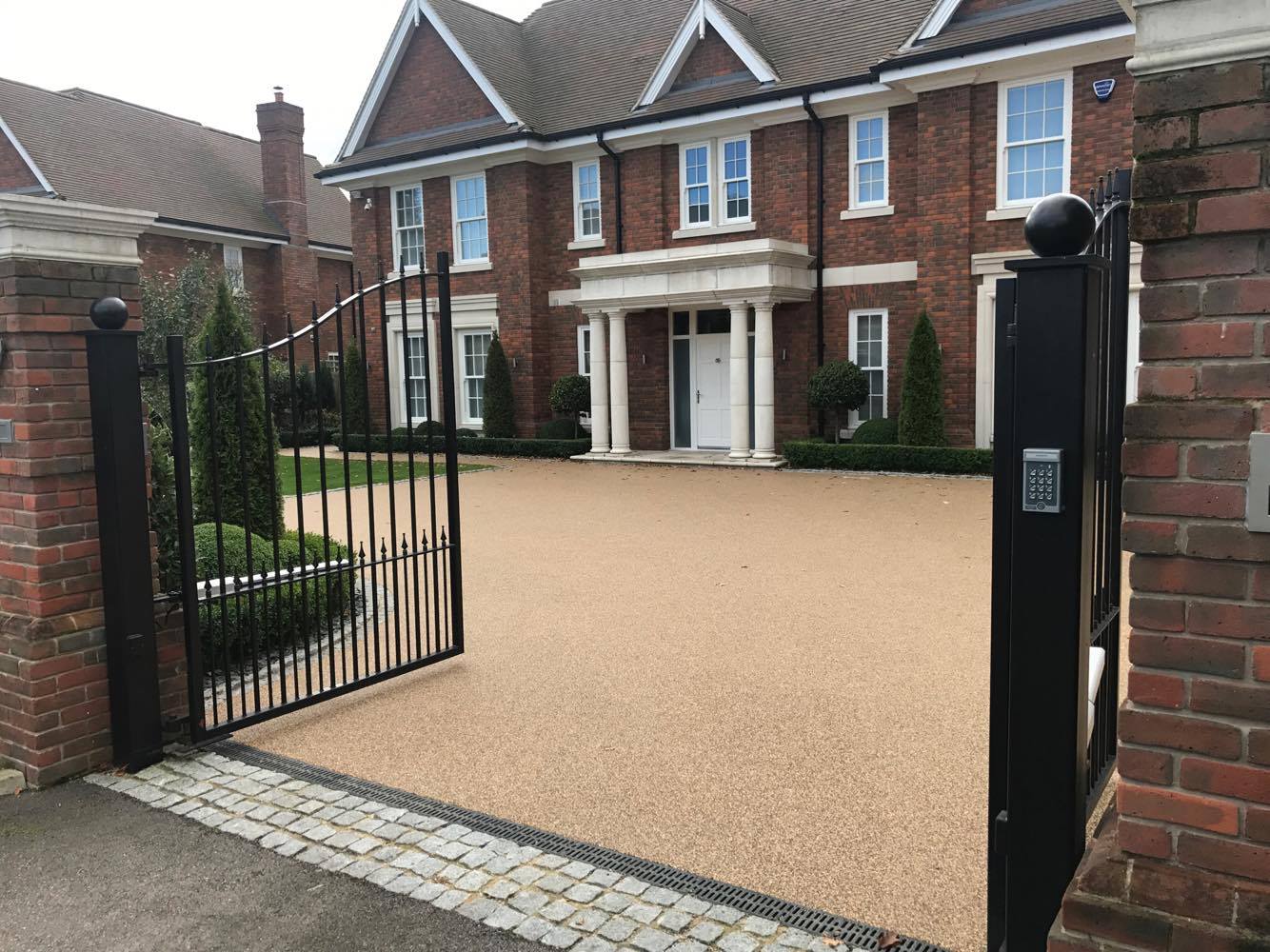 Uses
Driveways
Car Parks
Foot Paths
Patio Areas
Play Grounds
Swimming Pool Surrounds
Pond Surrounds
Advantages
SUD's Compliant
UV Stable
Anti Slip
Low Maintenance
Wheelchair Friendly
Durable
Highly Decorative
Resin Driveways
Ace Resin specialise in transforming your driveway with our low-maintenance resin bound surfacing. 
Resin Pathways
Take advantage of our cost-effective resin surfaces for all types of residential and commercial pathways.
Commercial Surfacing
We provide commercial surfacing solutions for schools, car parks, housing developments and more.
Get a Quote
For more information on how we can help you with your resin driveway in Essex or anywhere in the UK, please don't hesitate to get in touch by completing the form, call us now or email us at [email protected].
Frequently Asked Questions
What's the difference between a resin bound driveway and a resin bonded driveway?
Resin Bound
Resin bound is an eco-friendly, highly porous paving solution for ground surfacing. It is a choice of decorative aggregates mixed with specialist resins then hand trowelled to give a flat smooth surface suitable for driveways, paths and patios.
Resin Bonded
Resin bond is laid in a different manner to resin bound materials. It involves applying a layer of resin to the existing surface, which aggregates are then scattered in to the top of. This gives a non-porous surface, which has a coarser finish and leaves a certain amount of loose stone on the final surface.
How long will a resin bound driveway last?
A resin bound driveway is a strong and durable surface, that is resistant to weather conditions. Comparable products like Tarmac or Asphalt can soften in the summer heat and freeze in cold of winter, they will also be damaged by UV light. Resin is much more stable than these alternatives performing well year round in some of the UK's worst weather. Our driveways come with a 10 year guarantee and can last to a good standard for 25+ years.
Can I lay a resin driveway over my existing driveway?
This depends on the type and condition of your existing driveway. However, it should be laid on an appropriate sub-base of either asphalt or concrete. 
Do I need planning permission for a resin driveway?
If you have an existing driveway then planning permission will not be required. For any newly installed driveways or extensions planning permission is required for surfaces such as traditional block paving, flags and tarmac.