Driveway Ideas For Your Home
Ace Resin's Driveway Guide
Your driveway is the first thing that people see when they pull up to your home. If there are cracks in it, that will impact your curb appeal. Having a fit for purpose driveway doesn't only serve aesthetic purposes, it's also practical.
The last thing you want is to trip and fall on cracked concrete. So, if your driveway is a little worse for wear, it might be time for you to consider resurfacing it. The question is, what kind of style and material should you go with? Check out these driveway ideas to suit your home.
Gravel & Pebble Driveways
These driveway types involve pouring gravel or pebbles into a grid. Gravel driveways are good for security because you'll be able to hear people approach your home. They're also great for the environment because they store water instead of letting it travel into drainage systems. 
They come in a wide range of colours and styles, so you will be able to choose a unique look that also matches the style of your home. Installation is simple enough that you can do it, which cuts down on costs. 
For a collection of loose rocks, this driveway option is durable. Meaning that you will not have to worry about cracks forming, or the gravel moving during the colder months. 
The biggest problem with gravel is maintenance. As you walk across the driveway, the pebbles will fall out of place. Because of this, you will have to sweep them back, otherwise it may start to look messy.
Even though gravel can last through the cold winter, heavy snowfall will displace chunks of the material. As a result, you will not be able to plough your driveway without worrying about losing some of the driveway gravel.
Block Paving
Block paving driveways are easy to maintain and are super durable. You can get blocks moulded from concrete, clay, and natural stones. This means there is a wide range of colours and styles that you can choose from. 
If one of your paving blocks is damaged, you can have it fixed without having to rip up your entire driveway. You can install a loose pebble driveway all on your own, however, the same can't be said about block paving driveways. 
Each block has to be created and placed individually, which takes some time. Between this and having the driveway sealed, this is one of the more expensive options on this list. 
The installer will not be able to place it over a harder material. Moreover, if you are using tarmac, for example, it may have to be ripped up and replaced before the block paving installation. 
Concrete Driveways
If you are looking for a material that can last up to 20 years or more, you should consider investing in a concrete driveway. It can be a durable material as long as it's installed the right way. There are also plenty of colour options available. 
Keep in mind that whatever colour you choose, your driveway may fade over time. If the company you hire for the installation process doesn't lay the material down the correct way, your driveway will be prone to cracks as well. 
Asphalt & Tarmac Driveways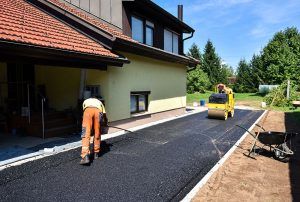 In most neighbourhoods, you will most likely notice that a large number of homeowners have an asphalt, or otherwise referred to as a tarmac driveway. Due to its clean look and affordability, it is one of the most popular options on the market. 
Affordability doesn't mean low-quality in the case of this driveway type. As long as you take care of it, you can expect it to last for years. The problem with asphalt/tarmac comes when you notice the first little crack. A small dent can turn into a massive problem if you let it persist. You will need to either pick up a kit to seal the crack or hire a professional.
Asphalt/Tarmac is commonly used in car parks and driveways because of its durability. It can withstand large amounts of weight and bad weather doesn't bother it. It is also anti-slip, meaning it will allow your car to easily pass down your driveway in icy conditions. This therefore makes it safer for the elderly and children. 
The material isn't overly difficult to install, and can be an affordable choice of driveway to choose from. However, you will need to think about your drainage situation before you have this material installed as the standard type of asphalt/tarmac is not permeable. However, it can be an open-grade spec, meaning there are permeable tarmac options available.
Another downside of asphalt/tarmac driveways is how plain it is. The design and colour options are pretty basic. If you want something that will draw the eye, one of the other options on this list might be better for you. 
Resin Driveways
Resin Driveways offer a pleasing smooth surface across the entire driveway. You can have your choice between resin-bound and resin-bonded styles. Resin-bound involves mixing aggregates into the resin and using a hand trowel to lay it down flat. 
Resin-bonded is a little different in that the resin is applied to an existing surface, and the aggregates are scattered on top of this existing surface. It's not as durable as resin-bound driveways and it doesn't allow water to pass through. 
This driveway type is resistant to most weather conditions. Unlike asphalt, it won't expand and contract when faced with hot or cold conditions. Moreover, if you use a reputable contractor, your resin driveway won't buckle under UV rays. If you do not choose a reputable contractor however, there is a higher chance that they will use cheaper resin and materials, meaning there will be a higher chance of getting UV damage.
One of the best things about resin is that it can be placed on top of your existing driveway. Asphalt, concrete, and tarmac all provide the best base for resin. You won't be able to have it installed on block paved driveways because it may shift when the resin is poured. 
A resin surface is porous, meaning it is SUD's compliant. Moreover, it does not let puddles build up on your driveway, meaning no more wet feet or surface water. Due to resin being SUD's compliant and permeable, it is also incredibly low maintenance, as weeds are restricted and unable to grow through. 
With resin driveways, you are not impeding the growth of trees so that you can also help with your contribution towards the environment by installing tree pits on your ideal garden without your driveway restricting you.
Resin bound driveways need an existing surface that is in good condition in order for it to be laid upon. At Ace Resin, we can excavate and reconstruct the sub-base as required, in order for our resin bound to be laid on top. However, as this will require more work, the price may be higher. You could also purchase one of our Resin Kits if you like a bit of DIY.
Stone Paved Driveways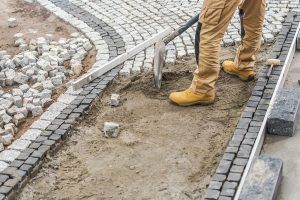 Stone paved driveways provide durability, and they also have a natural design that makes them a good choice of driveway for many homes. In addition to this, they are resistant to frost and frigid temperatures. 
You will need to do a little bit of research before you have the stone installed. This is because there are some materials that will work for pathways and driveway patios, but will not be a good choice for driveways as they may crack under the weight of your vehicle. 
You'll need to have your driveway resealed every few years or so to protect it against stains. You should also make sure you have some type of drainage solution in mind before the installation. 
Brick Driveways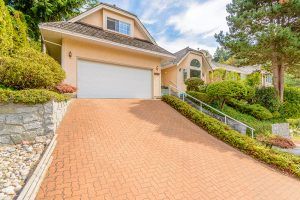 Brick driveways stand out because they aren't every homeowner's first choice when it comes to materials. You do need to have the right type of home to make this look work. Certain home styles and colours will clash against the brick paving.
This material will last for years as long as the installation is done properly. This being said, you will have to hire a professional to do the job. It's not something that you can DIY. 
Having a classic brick driveway also comes at a large price. It's one of the most expensive materials on this list to work with. 
Cobblestone Driveways
If bricks don't match well to the overall look of your home, you can get a cobblestone driveway installed instead. It functions pretty much the same as brick, but it can go with any house style and colour. 
Over the years, you may have to make a few repairs to your cobblestone, but for the most part, it can last for a few decades without having any issues.
The overall maintenance of cobblestone driveways is a breeze. It is one of the most durable materials that you can use. It's weather-resistant, it doesn't stain, and it can handle hot summers. All you have to do is clean your cobblestone a bit throughout the year and be diligent about plucking weeds. 
Cobblestone however, is a bit more expensive than bricks because of how much work it takes to install it. There are some ways you can lower the price for yourself. 
It doesn't take any special tools or machinery to install, so you can DIY if you have experience. You can also mix and match it with one of the other options on this list. For example, line your driveway in concrete and use cobblestone as your in-between material. 
Recycled Glass Driveways
We realise that glass doesn't seem like the wisest choice for a driveway, but hear us out. Recycled glass is sealed with resin. This makes it a unique, durable, and safe material that won't shred your tires. 
Since you're working with recycled material, it's one of the most environmentally-friendly options available. You will be saving glass from sitting in the landfills and repurposing it into something useful. 
Recycled glass is also pretty low maintenance. Once you have it installed, you'll be able to sit back and relax without doing much work at all. 
Tar and Chip Driveways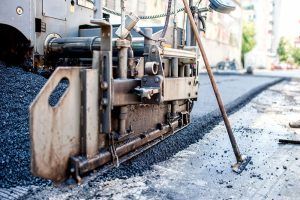 Tar and chip driveways use gravel as a base layer. Once the gravel is down, hot tar is poured on top to seal it in. To ensure that the gravel and tar are firmly pressed, the installer will use stones as a top layer. 
As you get to choose the stones used for the top layer, this will allow you to get the right look for you. Tar and chip driveways are comfortable to walk on and they do not take much maintenance. 
They are more durable than gravel driveways, but they still don't have the longest lifespan. You may also have issues trying to find the right contractor to install it, and it is possible to damage it when you're trying to plough snow off of it.  
Interlocking Tiles
Interlocking tiles come in concrete and cement materials. As the name suggests, they lock into place, which makes them easy to install. 
There is a lot of freedom of choice with interlocking driveways. You can choose to have them placed in any unique formation or pattern that you wish. 
You will need to do a bit of maintenance to keep your interlocking driveway in place. Weeds tend to grow between the tiles, which can pry them apart. You also have to get the right installer to do the job. If not, the tiles may loosen as time goes on. 
Grass Driveways
Not many people give grass any thought when they are choosing a material for their driveway. But what's the difference between parking your car in your front garden, and parking it in your grass driveway? 
The grass on your garden collects dew. When it evaporates, it has the potential to rust your car overtime. During rainy days, trying to drive your car off the lawn can be a struggle due to muddy conditions. 
Grass driveways use a plastic underlay that stops some of these issues from happening. You will have the natural aesthetic of grass while having the functionality of a normal driveway. 
If you don't like the idea of the plastic underlay, you can use concrete. The grass will grow through holes in the material. There is one thing to keep in mind. 
You'll have to take care of this grass the same as you would your lawn. If you don't, it will die.  
Driveway Shapes 
Now that you have an idea of what kind of material you want to use, it's time to consider shapes. You can choose between having a straight, curved, circular, semi-circular, and L-shaped driveway. Your driveway design and shape will in most cases be determined by the property, however on larger areas your driveway can be designed to incorporate flowerbeds and other separated areas. In these cases some of the following shapes are worth considering for the final aesthetic.
Straight
Straight driveways are the most common type. Depending on how your property is laid out, it might be the only type that is available to you. 
It's a simple design that doesn't take too much time and effort to complete. If you're working with one of the easier to install driveway materials, you may even be able to create this look yourself. 
Curved 
If you want to make things a little more fun to look at, you can opt for a curved driveway. Again depending on your property, having a slight curve might be your only choice. 
This option is a little harder to pull off than the traditional straight driveway, so you may have to talk to installers. If you want to try to install it on your own, there are always several online tutorials you can look at to get guidance and inspiration.
Circular 
Circular driveways ensure a constant flow of traffic through your home. You won't have to worry about anyone crowding the front of your house by parking side by side. 
It's an elegant design that sadly, only works for larger homes. They can take up a lot of space and need careful calculations to install. So, you will need to hire a professional for the job. 
Semi-Circular 
If you want an elegant circular driveway but don't have the room for it, you can opt for a semi-circular driveway instead. Not only is it aesthetically pleasing, but it's also the safest design option if you live on a busy road. 
You'll have a clear view of the road at all times and you won't have to back out onto a bustling road. Keep in mind that while you don't have to have a huge property to accommodate a semi-circular driveway, you'll still need quite a bit of room.  
L-Shaped 
An L-shaped design will send drivers straight up from the bottom of your driveway into your garage. Since there is a clear guideline, it stops people from parking where they shouldn't. 
The only issue with L-shaped driveways is that your property has to suit the shape. You will need a long, narrow path with a garage that veers to the left or right. 
Driveway Ideas for Your Home 
If you are looking for even more inspiration or more information on the type of driveway available please contact us using the link in the menu and we will be happy to help.
Ace Resin is a resin driveway company based in Essex, UK. We have been serving both residential and commercial premises across the South East of England for years installing stunning resin bound driveway surfaces. 
As you can see, there are tons of driveway materials and shapes that you'll have to consider for your new driveway. Out of all the driveway ideas listed, resin is probably the most versatile and economically-friendly choice. Contact us on 0207 856 0295 for more information on our resin bound services and get a quote.
Other News from Ace Resin
The Pros & Cons of Resin Driveways Are they worth it?When you consider that driveways have a major impact on curb appeal, you will want to carefully weigh your options before choosing one. With the various kinds of driveway materials available, it is critical to...
Frequently Asked Questions
What's the difference between a resin bound driveway and a resin bonded driveway?
Resin Bound
Resin bound is an eco-friendly, highly porous paving solution for ground surfacing. It is a choice of decorative aggregates mixed with specialist resins then hand trowelled to give a flat smooth surface suitable for driveways, paths and patios.
Resin Bonded
Resin bond is laid in a different manner to resin bound materials. It involves applying a layer of resin to the existing surface, which aggregates are then scattered in to the top of. This gives a non-porous surface, which has a coarser finish and leaves a certain amount of loose stone on the final surface.
How long will a resin bound driveway last?
A resin bound driveway is a strong and durable surface, that is resistant to weather conditions. Comparable products like Tarmac or Asphalt can soften in the summer heat and freeze in cold of winter, they will also be damaged by UV light. Resin is much more stable than these alternatives performing well year round in some of the UK's worst weather. Our driveways come with a 10 year guarantee and can last to a good standard for 25+ years.
Can I lay a resin driveway over my existing driveway?
This depends on the type and condition of your existing driveway. However, it should be laid on an appropriate sub-base of either asphalt or concrete. 
Do I need planning permission for a resin driveway?
If you have an existing driveway then planning permission will not be required. For any newly installed driveways or extensions planning permission is required for surfaces such as traditional block paving, flags and tarmac. 
Get a Free Quote -or- Ask a Question